Living in apartment is great – its low maintenance and convenient, however I'm sure you're aware there are some unsavory characters in and around the building.
There are wireless packages we've designed to work well for apartments when roof access is usually not possible.
SELECT ONE OF OUR PACKAGES
Wireless Alarm Pack 1 – Designed for locations with no roof cavities – $990 fully installed incl GST
1 x Watchguard 2020™ WiFi Control Panel
1 x ALC-CAM1 1.0MP Indoor WiFi Camera
2 x  Door / Window Contact
1 x Remote Control

Connects to your Wifi to provide phone notification. Can also arm / disarm using phone.
Available Extras:
Keypad $220
Pet PIR sensor $165
Wireless Reed $132
Wireless Roller reed $143
Smoke detector $154
External Solar Siren strobe $220
Additional Remotes $88
Additional internal camera $275
 Alarm Pack 3 (Semi-Wireless) – Designed for units – $1,265 Fully Installed incl GST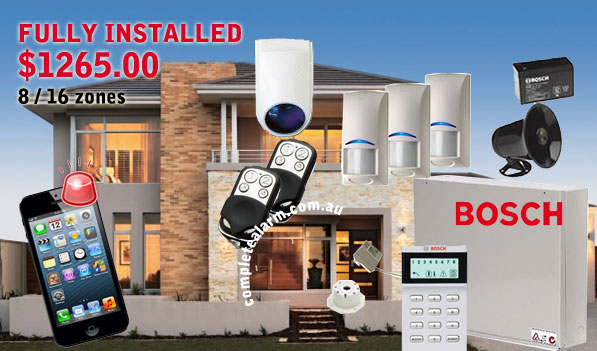 Bosch Solution 3000 ( 8 ) Alarm panel with tamper switch
2x Bosch Wireless movement detectors
1x Bosch Hardwired movement detector
2x Bosch remote controls
1x Bosch LCD keypad
1x External classic or Slimline siren with blue strobe
1x Internal siren
Power pack & backup battery
24 Months WARRANTY on all parts & labour
NO CONTRACTS – NO HIDDEN FEES.
Available Extras:
| Add + | Extras | Add + | Extras |
| --- | --- | --- | --- |
| + 88 | For each additional remote needed | + 88 | Alarm connection to phone line for mobile alert |
| + 176 | For each wireless reed switches (for doors / windows) | + 165 | Wired Panic Alarm (great for bedrooms) |
| + 220 | For each additional wireless PIR sensor | $33 p/m | Back to base alarm monitoring |
| + 55 / +95 | Pet sensor under 13kg  +55/ Pet sensor between 13 and 38 kg  +95. | +275 | GSM Dialler Unit (sim card alert unit) |
Ways To Buy