The Hills Home Music System is the perfect partner for your lifestyle and entertainment needs. The Hills Home music Manager seamlessly integrates into your home utilising state-of-the-art discreet in-wall and in-ceiling flush mount speakers. Weather resistant outdoor speakers are also available to extend your listening experience outdoors.
The Hills Home Music Manager is capable of distributing up to 4 music sources such as CD, DVD, radio, media centers, etc to up to eight music room manager zones located inside and outside your home. Each room station also has an auxiliary port accepting portable MP3 players to further flexibility.
Sit in your lounge room and listen to your favourite radio station while the kids are in the playroom listening to the Wiggles at the same time!!
The Speakers:
Hills Music Speakers are flush wall/ceiling mounted and provide you with the highest quality stereo sound performance you expect.
Music source
Hills Home Music Manager is available in 4, 6 & 8 room stations to suit all your entertainment needs and all budgets.
PREMIER 4 Room Music System – Fully Installed for $5940
Consisting of :
4 by S2333 H8CC 8″ ROUND CEILING Speaker (1 pair)
4 by S4730 HDV-IRR MUSIC ROOM MANAGER – volume controllers with remote
1 by S2121 HPS-60W MUSC POWER SUPPLY MOD – power supply
1 by S3199 CLIP 4GANG PL+GRID 2K SERIES – wall plate
4 by S2689 3.5MM TO IDC MECH CLIPSAL – music mech for wall plate
1 by S4731 HMS-408 MUSIC HUB 8 LOCATIONS – music distributor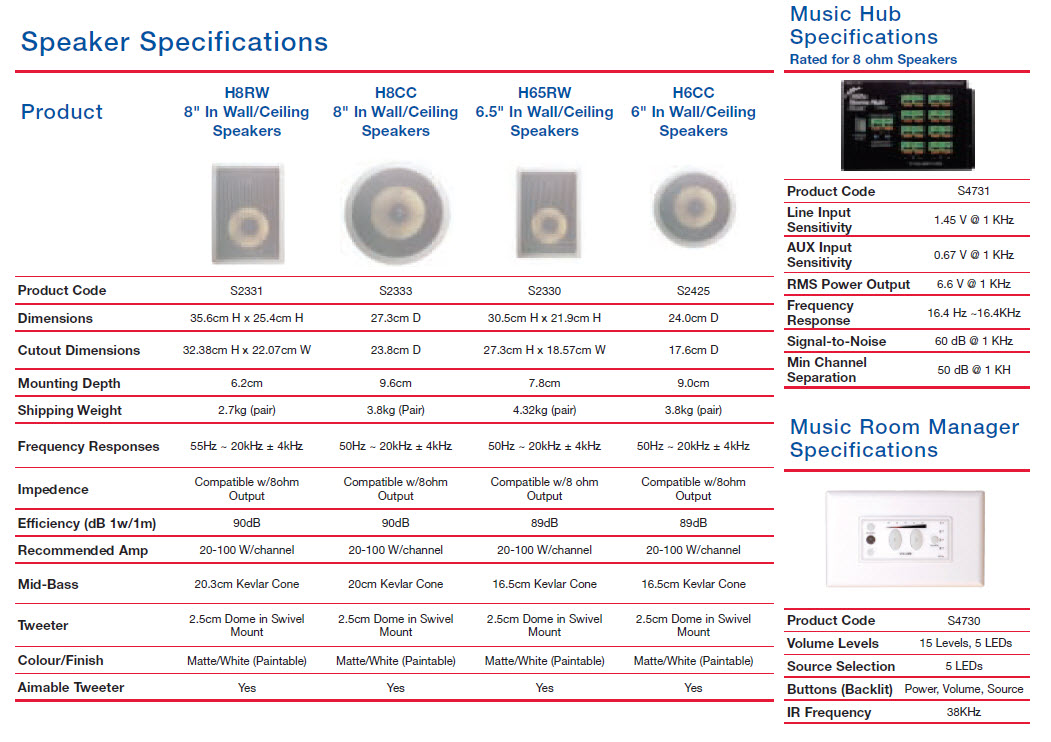 PREMIER 6 Room Music System+CLIPSAL – Fully Installed for $7700
Consisting of :
6 by S2333 H8CC 8″ ROUND CEILING SPK
6 by S4730 HDV-IRR MUSIC ROOM MANAGER
1 by S4731 HMS-408 MUSIC HUB 8 LOCATIONS
1 by S2121 HPS-60W MUSC POWER SUPPLY MOD
1 by S3199 CLIP 4GANG PL+GRID 2K SERIES
4 by S2689 3.5MM TO IDC MECH CLIPSAL
PREMIER 8 Room Music System+CLIPSAL – Fully Installed for $11000 – 2 storey homes – pre-gyprock only
Consisting of :
8 by S2333 H8CC 8″ ROUND CEILING SPK
8 by S4730 HDV-IRR MUSIC ROOM MANAGER
1 by S4731 HMS-408 MUSIC HUB 8 LOCATIONS
1 by S2121 HPS-60W MUSC POWER SUPPLY MOD
1 by S3199 CLIP 4GANG PL+GRID 2K SERIES
4 by S2689 3.5MM TO IDC MECH CLIPSAL