All Cafes are different in shape and sizes. However all cafe owners have the same concern whether you're just starting your cafe business or you're looking to upgrade your existing system.
Below is just a sample floor plan layout of what Complete Alarms recommend when it comes to installing your security package.


Cafe Floor Plan with 4 connected IP CCTV camera surveillance and a standard Bosch Alarm system.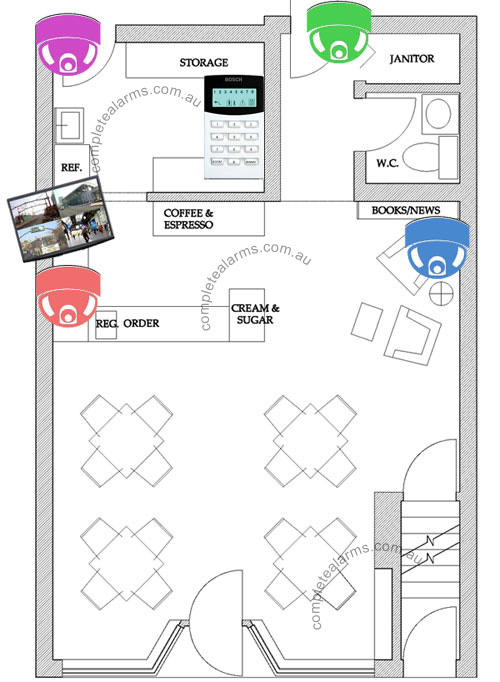 A high resolution IP camera that can allow you to zoom up to the finest digit details on a dollar bill, will ensure your cash register area is safe from burglary and staff theft.

 A requisite to place a camera in a close position to the entrance which allows high visibility of all entrants and departures from the cafe.

 A safety measure and precaution to place a camera at all entry/ exits of the cafe

 Inventory of a cafe is where all the cash and value is tied up. Definitely compulsory to place a camera that allows high visibility of staff or suppliers who will have access to your supply. Protect your valuables.

 A high clarity monitor will ensure you can keep watch on your cafe in-store. All Complete Alarm CCTV packages comes with a free connection to mobile and tablet devices, so you can view activities on your store from anywhere.

 Standard Bosch alarm system will give you peace of mind from any intruders and burglary outside store hours. All Complete Alarm installations come with mobile phone alerts when the cafe alarm has been triggered.
Costs to expect for a fully installed Cafe Security Package: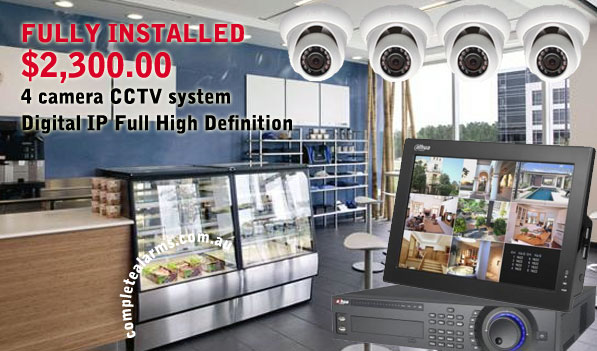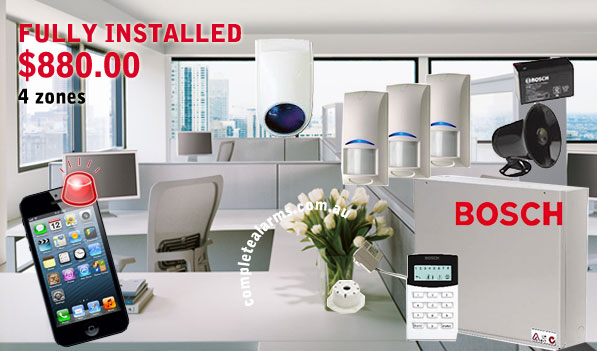 Ways To Buy